Lisa Krim is a leadership coach to senior leaders and executives across the non-profit, academic and legal sectors.
Entering the world of executive coaching from a distinguished career in law, Lisa sought my help to launch her new practice. I consulted with her on naming, social strategy, and brand identity, and designed a visual identity for use in digital and print setting.
When I worked with her, Lisa was only just beginning to take paid clients. After some context research on the executive coaching space, I identified the key social platforms that fellow coaches used to engage clients and the type and timing of content they used for that engagement. Given her main client acquisition strategy (word-of-mouth in her deep professional network) and emphasis on C-suite clients, I advised a conservative social strategy that would enable her to focus her effort on developing an online presence organically.
I also advised a core brand identity focused on Lisa's name for the launch of her consultancy, to capitalize on her existing profile in-network, and recommended "executive coaching" as a descriptor that best matched industry practices.
Lisa's practice is poised for growth. I created a flexible visual identity where both the logotype and the graphic logomark could work as standalone items, as well as adapt to potential sub-brands or new enterprises (e.g. group mediation, leadership retreats, etc.).
The new identity needed to communicate authority and respectability in a male-dominated setting, and work in both digital (website, social media, slide deck) and print (business card, invoice, thank-you card) settings. I suggested we work with Lisa's favorite color—a rich persimmon—and created a series of options based on a bold graphic mark paired with a serif typeface in black, to strike the right balance between modernity and gravitas.
The final mark is drawn from Lisa's description of her practice, in which she co-creates a safe space with her client for the exploration of issues. A swirling circular outline that can read abstractly as a safe, layered enclosure, or more literally as that classic symbol of individuality, a fingerprint, takes center stage with potential for stand-alone use. It is paired with a modern blackletter serif font for Lisa's name and an elegantly-proportioned sans serif for the practice description.
The first set of tearsheets explored two bold marks and a variety of serif typefaces, and offered a variety of alternatives to spark conversation about alternate directions.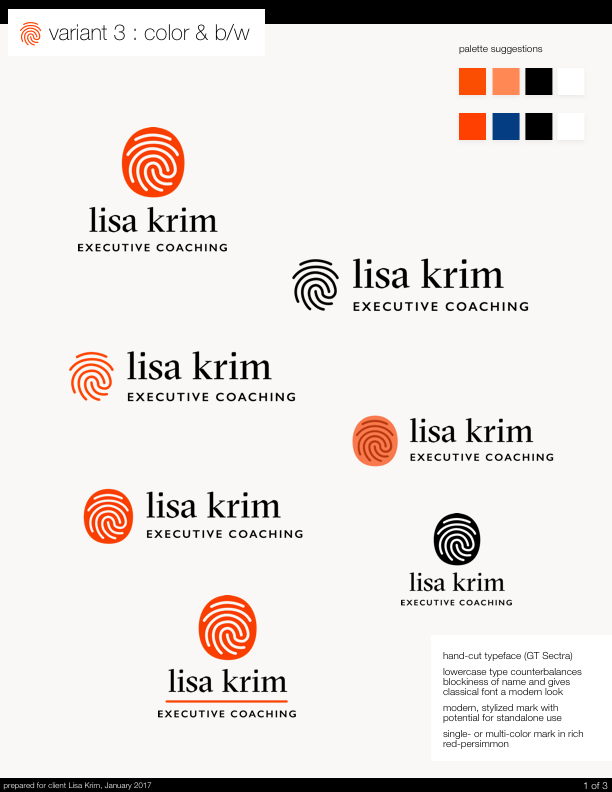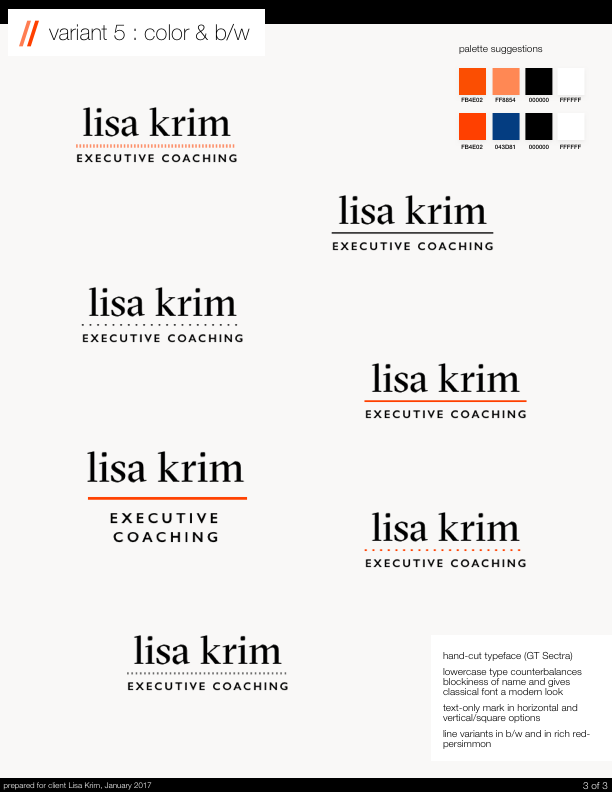 I explored a more saturated palette in the next set of tearsheets, with "fingerprint" concepts designed to look less feminine and more modern.


The final logo was delivered in multiple variants with recommendations for print and digital use.